When it comes to choosing your next sedan, hatchback, or SUV, taking a test drive is the only way to truly know if you've found the ride that's right.
But, if you're like most of us, you don't have time to head to 10+ dealerships to test drive all the different makes and models on your "maybe" list.
That's where our Hyundai vehicle comparisons come in! Here, you'll find a complete library of vehicle research stacking Hyundai's most popular models back to back with their in-segment cross-brand competitors. It's the next best thing to getting behind the wheel of each car and turning the key!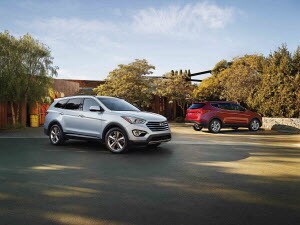 See new Hyundai vehicles available now!
Dare to Compare to a Hyundai
Whether you're looking for a spacious SUV like the Santa Fe Sport or an eco-friendly commuter like the Elantra, pairing each car to other models in its segment helps you see which ride might be the better match for you. And we have a vehicle comparison for each of Hyundai's most popular models on the market today.
Check out a few of the categories our Hyundai vehicle comparisons dive into…
Style: Find out which car has the aesthetic, build, and features you're after.
Space: See which car provides more cabin room for you and your passengers, and more cargo utility for your travel essentials.
Performance: What's under the hood plays a major role in how you enjoy the ride, and which car is the right fit for your driving needs. Learn which vehicle brings more power, how they compare in terms of fuel spend, and more.
Choose a Hyundai Vehicle Comparison to Get Started
Here at Pecheles Hyundai, we know that online research drives much of your car shopping journey, and we're proud to provide our local drivers from Greenville, Wilson, and Rocky Mount with complete resources like our Hyundai vehicle comparisons to get this process moving.
To get started, select the comparison matchup you're interested in most on this page.
If you find a Hyundai that has what you're looking for, but you want a closer look, feel free to also use our model-specific Hyundai vehicle reviews to learn even more.
2018 Hyundai Sonata vs. Toyota Camry

2018 Hyundai Sonata vs. Honda Accord

2017 Hyundai Santa Fe Sport vs. Ford Edge
2017 Hyundai Elantra vs. 2017 Honda Civic
2017 Hyundai Elantra vs. Toyota Corolla
2017 Hyundai Santa Fe Sport vs. Hyundai Santa Fe
2017 Hyundai Santa Fe Sport vs. Kia Sorento
2017 Hyundai Tucson vs. Nissan Rogue
2017 Hyundai Tucson vs. Toyota RAV4