Stylish, roomy, and fun to drive, today's compact cars have it all. This segment, where models like the 2017 Hyundai Elantra and the 2017 Honda Civic duke it out, is one of the most popular and competitive, which can make it tough to find the small sedan that's just your speed.
In order to help our local shoppers in Greenville, Wilson, and Rocky Mount, NC, compare these two rides and choose the car that's best for their needs, Pecheles Hyundai put together this comparison of the Hyundai Elantra vs. Honda Civic.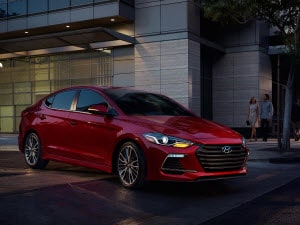 Have a question before we get started? You can always contact our team at Pecheles Hyundai directly.
Hyundai Elantra vs Honda Civic: Performance
The 2017 Hyundai Elantra and the 2017 Honda Civic both offer multiple powertrain options to buyers. Their standard 2.0L 4-cylinder engines produce roughly 150 horsepower, making it easy to cruise around town and keep pace on the highway.
Their turbocharged engines differ a bit more, with the Elantra delivering 201 horsepower (hp) from its 1.6L motor and the Civic only earning 174 hp. Each model offers a 6-speed manual and an automatic transmission equivalent (an automatic in the Elantra and a continuously variable transmission in the Civic).
These small cars are not only engaging to drive, but help you save a pretty penny at the pump with their best EPA-estimated combined averages starting at 35 MPG.
Small Sedans, Major Space
Despite being classified as compact cars, the Hyundai Elantra and the Honda Civic manage to pull off super spacious inner seating dimensions. With over 42 inches of front-seat legroom and 35+ inches of rear-seat legroom available in either model, buyers really have it made, both everyday commuters and those looking for a petite family sedan.
Each car also offers a hatchback body style, which is a desirable configuration that provides a rear hatch liftgate for added cargo room and versatility. The Elantra GT Hatchback makes a total of 51 cubic feet of space available with the rear seats folded down, and the Civic Hatchback offers 46.2 cubic feet of space in total.
2017 Elantra vs 2017 Civic: Technology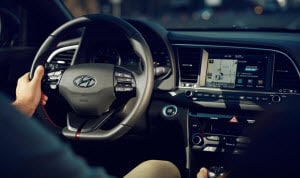 Technology has become a big part of our daily drives for everything from directions to our next destination to entertainment en route. Luckily, it's one more area where the Hyundai Elantra and the Honda Civic excel.
Some of their shared base technology features include USB ports and multi-speaker audio systems (six speakers in the Elantra and four in the Civic). The 2017 Hyundai Elantra additionally comes standard with satellite radio, ensuring there's always something to listen to that suits your mood and likes. 
A variety of cutting-edge driver safety assistance aids are available in both models, including features like Adaptive Cruise Control and Automatic Emergency Braking. The 2017 Hyundai Elantra offers Low-Speed Pedestrian Detection that can stop the car if a person steps out into the crosswalk before you notice, helping you stay safe and aware in busy parking lots.
Hyundai Elantra vs Honda Civic: Which Do You Pick?
The 2017 Elantra and the 2017 Civic are both great compact cars, and we hope this comparison helped you get to know their individual talents even better. If you're looking for a small sedan for driving around Greenville, Wilson, or Rocky Mount, it's difficult to deny the Hyundai Elantra's leading edge when it comes to power, space, and technology.
If you're ready to get a closer look, why not take the 2017 Elantra for a spin? Schedule your Elantra test drive today with your friends at Pecheles Hyundai.