If you're looking for a great new compact SUV to get you around Greenville, Wilson, and Rocky Mount, you'll want to look into the 2017 Hyundai Tucson and the Toyota RAV4. These are both reliable, well-known models in the class. If you're unsure which of the two is best for your commute, this review will provide you with the information you need to make a decision.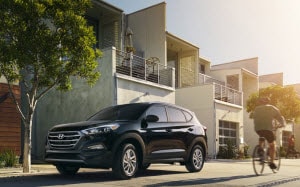 The team at Pecheles Hyundai has prepared this review of the 2017 Hyundai Tucson vs. Toyota RAV4 to make your research process quicker and easier. If you have any additional questions, please don't hesitate to contact us and speak with one of our automotive experts.
Overview: 2017 Hyundai Tucson vs. Toyota RAV4
The best hallmark of the compact SUV class is that these vehicles are just as fuel efficient and easy to drive as a sedan, but they also offer plentiful cargo space for all of your kids' sports gear, your camping supplies for the weekend, or your large weekly grocery runs for the family.
Both the Hyundai Tucson and the Toyota RAV4 offer seating for five passengers on cloth upholstery. Each is available with standard front-wheel drive, or with the option of upgrading to all-wheel drive, which is extremely helpful for creating extra traction and control on slippery winter road conditions. The Tucson achieves an EPA-estimated fuel efficiency rating of 26 city/32 highway miles per gallon compared to the RAV4's 23 city/30 highway miles per gallon.
Interior Features: 2017 Hyundai Tucson vs. Toyota RAV4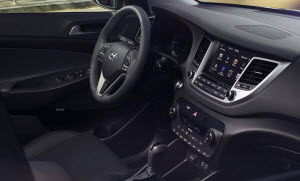 The back seats of the Tucson are slightly roomier that the RAV4's, offering 39.2 inches of headroom and 38.2 inches of legroom compared to the RAV4's 38.9 inches of headroom and 37.2 inches of legroom. This could be an important consideration if you plan to seat adults in the back of the vehicle. Both of the SUVs have been lauded for their serenely quiet cabins and smooth ride quality, making them pleasant to be in, even on long road trips. 60/40 split folding rear seats make it easy to customize your cargo space to your needs.
Tech Specs: 2017 Hyundai Tucson vs. Toyota RAV4
The 2017 Hyundai Tucson and 2017 Toyota RAV4 each come equipped with a standard touchscreen infotainment system to provide you with convenience and entertainment on your drives. Rearview cameras are also standard, and you'll also have Bluetooth® capability for making hands-free phone calls and USB ports for quick and easy charging.
The Tucson features standard satellite radio, so you'll be able to access hundreds of channels of music, talk, and news radio stations. Satellite radio is an available option on the RAV4. You'll also have optional Apple CarPlay™ and Android Auto™ in your Tucson, for even easier and more functional connectivity with your smartphone, a feature that is not available in the 2017 RAV4.
Schedule a Test Drive
Now that you have all of the information you need about each of these compact SUVs, it's time to make your decision as to which to pursue further. Our team at Pecheles Hyundai thinks that drivers in Greenville, Wilson, and Rocky Mount will appreciate the 2017 Hyundai Tucson best, with its fuel efficiency, roomy cabin, and standard tech features. Contact us today to schedule your test drive!