Having problems with your vehicle during your drives around Greenville, Wilson, and Rocky Mount? It could be your transmission, and to help you get to the bottom of it, our team at Pecheles Hyundai has put together this guide to the most common transmission problems and how to prevent them.
Is Your Transmission Fluid Low or Leaking?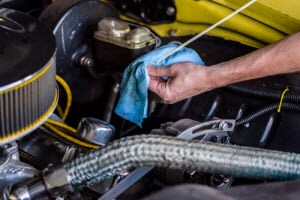 Transmission fluid keeps the transmission from overheating, parts from rubbing together, and provides hydraulic pressure. Transmission fluid that is low or leaking can negatively affect many different areas of your transmission system, and eventually cause bigger issues.
How it happens: If your transmission fluid is low, it could mean there is a leak in the transmission. Leaks can occur if there is damage somewhere in the system.
How to spot it: When you move your vehicle out of a parking spot, look for a dark fluid that is accompanied by a burnt odor. Normal transmission fluid is a brighter red and almost sweet smelling. So, if there is an issue, the color and smell of it will be a huge red flag.
Are You Having Issues with Your Clutch?
If you have a manual transmission, a clutch functioning improperly is another indicator that your transmission has a problem. When you engage the clutch, it cuts off engine power to switch gears; if there's an issue, switching gears will be almost impossible, or at least more difficult.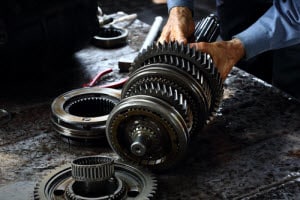 How it happens: The clutch will naturally wear down over time. However, if it's been handled improperly, it could wear down even sooner and cause bigger issues.
How to spot it: If the clutch is damaged, you may find your RPMs rising without much acceleration. Or, you might hear some odd noises when shifting gears.
Could Your Transmission Be Overheating?
Anything that is overworked can overheat, including your transmission. To keep working properly, your transmission needs to endure a stable temperature and remain lubricated. Plus, an overheated transmission could indicate other problems with your vehicle, too.
How it happens: When the transmission is lacking fluid, this can cause it to overheat. Consistent lubrication allows the system's parts to maintain proper function, without rubbing against each other. Or, if you have the wrong brand or type of transmission fluid, this can cause overheating, too.
How to spot it: If you hear strange sounds or smell a burning odor coming from the transmission, these are huge indicators that your transmission is overheating. If this occurs, you'll want to have your vehicle checked out as soon as possible.
Taking Care of Your Transmission Issues
Taking care of your transmission issues is crucial to not just prolonging your vehicle's lifespan, but saving money in the long run by preventing larger issues. Our service center at Pecheles Hyundai has a team of auto technicians ready and willing to check out any transmission concerns you may have.
You can schedule an appointment at any time by filling out our online appointment request form.