Alleviating pollution while maximizing performance, electric, hybrid, and plug-in hybrid vehicles like the 2017 Hyundai Ioniq are the cars of tomorrow. The Ioniq Hybrid Sedan is the first-ever "hybrid-hybrid" to offer all three eco-friendly powertrain platforms in one model, and the release of the Ioniq Electric and Ioniq Plug-in Hybrid are just around the corner!
To find out more about this compelling and innovative car series from Hyundai, check out the following vehicle review from Pecheles Hyundai in Greenville, NC.
The Iconic Ioniq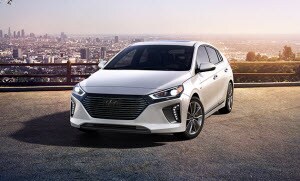 Many electric and hybrid models take on spaceship-inspired silhouettes and futuristic features, but that's not the case with the 2017 Hyundai Ioniq. A big part of the Hyundai Ioniq's appeal is that its sleek and sporty build looks confident parked next to today's most stylish hatchback coupes and sedans.
Instead of making it easy to call the Ioniq out as "the electric one," Hyundai designed the Ioniq to prove that the future is now and bring the hybrid image mainstream.
The Hyundai Ioniq's Future Is Bright
Coming out soon, the all-battery-powered 2017 Ioniq Electric Vehicle (EV) will boast an impressive driving range for the segment at 124 miles. Even though full specs have yet to be released for all of the Ioniq's 2017 powertrain platforms, Hyundai is already looking forward to the capabilities of the upcoming 2018 Ioniq Hybrid EV and Plug-In Hybrid.
According to a blog released by Hyundai, advancements in engineering will put forthcoming Ioniq EV models on track to offer a continual improvement on this number, with the 2018 model bringing a 200-mile driving range, and the 2020 model having a targeted 250-mile driving range.
For now, drivers can say goodbye to frequent fill-ups behind the wheel of the 2017 Ioniq Hybrid, which features a gas and electric powertrain calling the shots. This efficient engine pair returns up to an EPA-estimated 58 combined MPG* for city and highway driving.
Redefining Eco-Friendly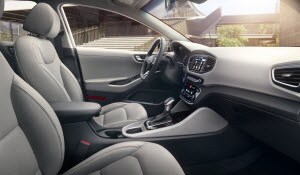 On board the 2017 Hyundai Ioniq, driver and passengers don't have to sacrifice comfort for an environmentally friendly drive. The Ioniq has all of the niceties of today's top sedans, including:
39.1 inches of front-seat headroom, 42.2 inches of front-seat legroom
37.4 inches of rear-seat headroom, 35.7 inches of rear-seat legroom
26.5 cubic feet of trunk space under the hatch (all seats in place)
The Hyndai Ioniq doesn't leave out the latest in touchscreen tech and connectivity either, including a 7-inch touchscreen display with Android Auto™ and Apple CarPlay™ support.
Unlike a mainstream sedan, however, the inner Hyundai Ioniq employs eco-friendly resources in the makings of its cabin, utilizing renewable materials like sugar cane and volcanic stone to craft the Ioniq's stylish trims and fabrics.
Test Drive the 2017 Hyundai Ioniq at Pecheles Hyundai
The 2017 Hyundai Ioniq makes being kind to the environment convenient, stylish, and fun. If you're in the market for a spacious, reliable, and efficient sedan, you're in luck: The 2017 Hyundai Ioniq Hybrid has already arrived at the Pecheles Hyundai showroom, and its Electric and Plug-in Hybrid versions will be here soon!
Get in the Ioniq's driver's seat today by contacting Pecheles Hyundai, your trusted vehicle resource serving Greenville, Wilson, and Rocky Mount.
*2017 Ioniq Hybrid Blue: 57 city/59 highway/58 combined. 2017 Ioniq Hybrid SEL/Ioniq Hybrid Limited: 55 city/54 highway/55 combined. EPA estimates. For comparison only. Your actual mileage may vary with options, driving conditions, driving habits, and vehicle's condition.