Looks like a car, sounds like a car, but…it's a game-changing plug-in hybrid. The 2018 Hyundai Ioniq Plug-in Hybrid is almost here!
To help our local buyers in Greenville, Wilson, and Rocky Mount get fully up to speed on this eco-savvy wonder, Pecheles Hyundai created the following top-to-bottom 2018 Hyundai Ioniq Plug-in Hybrid review.
Have a question? Feel free to contact our team at Pecheles Hyundai directly.
Coupe Looks, Hybrid Capability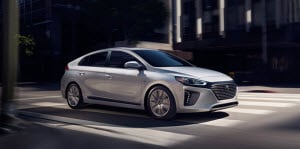 The word hybrid refers to a blending of two styles, but nothing's really subtle about the leading hybrid models on the market right now, whose designs stick out like sore thumbs. The Ioniq, though, is the first model of many to break that mold.
With its super sleek build and expansive front grille, the 2018 Hyundai Ioniq has Elantra-alluring style alongside its own fresh details and polished profile.
Plug in, Power Up: 2018 Ioniq Specs
In the Hyundai Ioniq lineup, the 2018 plug-in hybrid model brings the best of both worlds into one powertrain, drawing gas when you need it, and electric when you don't.
The battery portion, which you can charge at work or at home, is a supplementary fuel source that helps the Ioniq get the most out of the conventional fuel in its tank.
The Ioniq's engine pair features a:
1.6L inline 4-cylinder engine that makes 106 horsepower.
60-horsepower electric motor.
Power is seamlessly applied by a 6-speed dual-clutch automatic transmission.
Behind the Wheel
Even better yet (and to the surprise of many seasoned hybrid drivers), when getting up to speed, the Hyundai Ioniq Plug-in Hybrid accelerates fast and delivers the affirming gas whir of a non-hybrid car.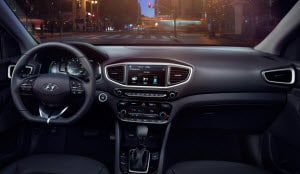 Let's not forget about efficiency, a major motivation for going hybrid. The 2018 Ioniq Plug-in is rated at an EPA-estimated 105 MPGe for gas and electric combined driving. This stat is right in line with competitors like the Chevrolet Volt and the Ford C-MAX Energi.
To compare in more familiar terms, the EPA estimates that the Ioniq has an overall combined city/highway average of 51 MPG. Top-performing small-gas sedans average out at about 30 combined MPG, making the Hyundai Ioniq's fuel-sipping abilities a huge dollar saver for your gas spend.
Ioniq Accoutrements
Featuring top-notch connectivity features and a blend of comfort and elegance, the 2018 Hyundai Ioniq is as sleek on the inside as it is on the outside.
Every Ioniq comes equipped with:
A 7-inch color touchscreen.
Apple CarPlay™ and Android Auto™ smartphone integration.
A rearview camera.
There's also plenty of functional features, like a 60/40 split folding rear seatback and a rear row spacious enough for adults, to name a few.
Gear Up for the 2018 Hyundai Ioniq Plug-in Hybrid
The 2018 Hyundai Ioniq Plug-in Hybrid will arrive at the Pecheles Hyundai showroom this fall! Trust us, you don't want to miss test driving this cool, eco-conscious cruiser.  
For more information on the 2018 Ioniq, Greenville, contact the Pecheles Hyundai team, and keep an eye on our online inventory for the new Ioniq's arrival in autumn 2017.